For this week's blog post, the interns decided to share how they are settling in to their positions in Cyprus. They would like to thank Frank Potenziani and M&T Trust for the opportunity to spend two months this summer in Cyprus, for an experience of a lifetime.
Julia Freund '20, International Business and Ethnic Studies, shares their exploration of the Old City in Nicosia.
Two weeks ago, was our first weekend in Cyprus. We were still a little tired and jet-lagged from the 16+ hours of traveling, so we decided to stay within Nicosia and explore Old Nicosia. Old Nicosia is around a 20 minutes away from our apartment by bus. The Old City shows the history and culture of Nicosia, which is Lefkosia in Greek. The architecture and feudal streets makes one feel like they are in a different city and time than Nicosia. Within the Old City, we walked along the street called Ledra, which has a lot of boutiques and cafes. At the end of Ledra, there is the UN Buffer Zone that separates the Republic of Cyprus and the part that is occupied by Turkey. We walked by the Church of Panagia Faneromeni, which is the largest church within Nicosia as well as an area called Laiki Geitonia, which has many souvenir shops and cafes. It was a gorgeous morning for exploring Old Nicosia as the temperature was in the high 80s and sunny until the afternoon when it was raining. At the time that was the typical weather that we were experiencing; sunny and warm in the morning and then around 1pm it would rain/thunderstorm for a couple of hours. This was the first time all of us were able to get to know one another better since we did not know much about each other before on this exciting adventure.
Below are some pictures from our day at Old Nicosia.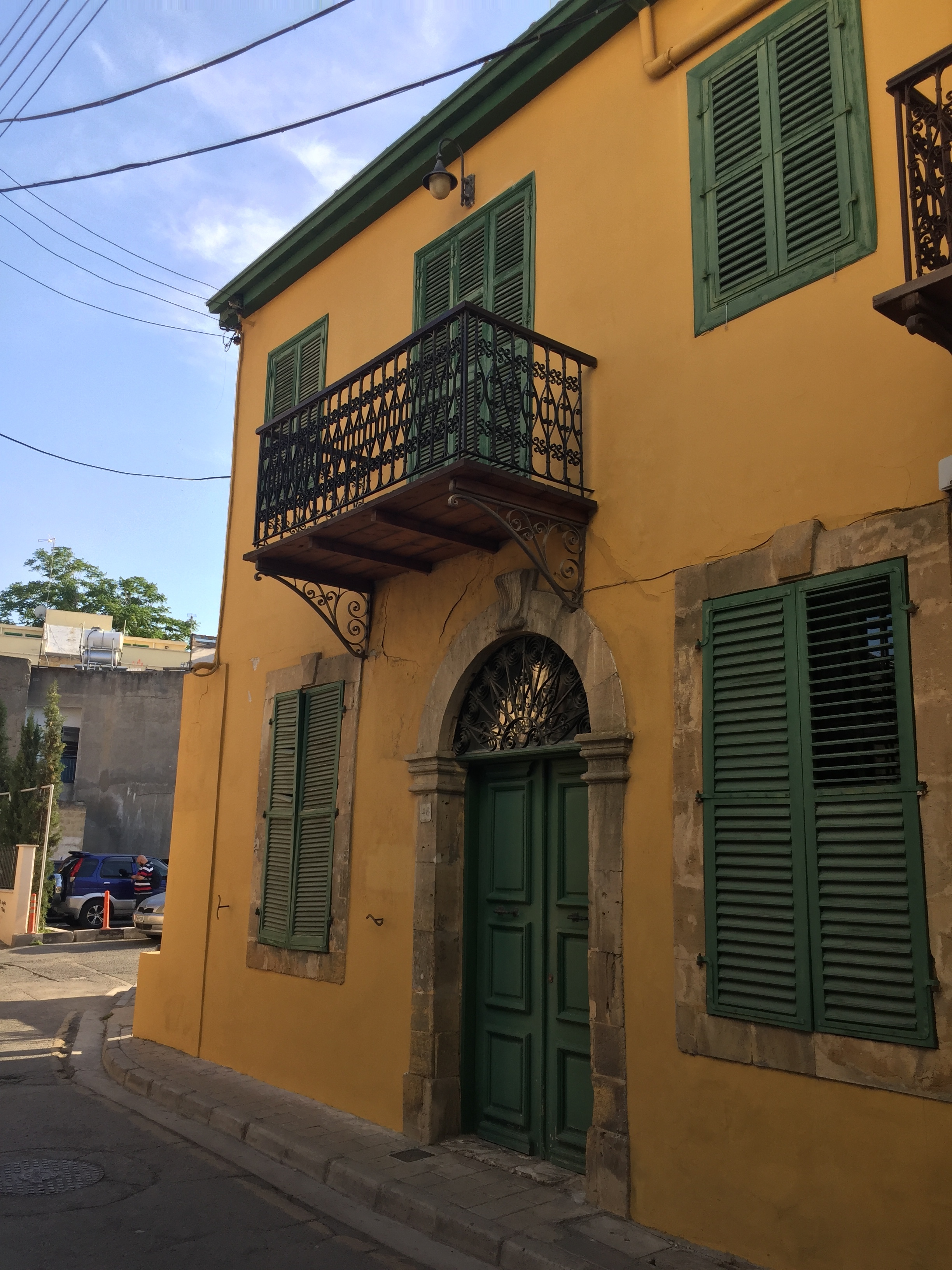 Marie Lawson '19, International Business and Marketing, shares insight on their Internship at Famous Sports.
The introduction to our digital marketing internship at Famous Sports in Cyprus has been
an exciting initiative for Julia and I. Famous Sports' website is celebrating its fifth year. They also host an athletic apparel store situated on the ground level of our office building. Famous Sports represents a spectrum of brands such as Nike, Adidas, Reebok, Roxy, and Quiksilver. The environment of the company has been relaxed and welcoming from our first day on the job. We have met Sophie Papakyriakou, the aunt of SIBC member Sophia Panayides, Lena Constantinidou, the e-Commerce Assistant for Famous Sports, and Theodoros Charalambous, the e-Commerce Manager of Famous Sports. Julia and I share an office space with Lena and Theodoros, so we are beginning to build our professional network. As far as our tasks as digital marketing interns, we have been introduced to the website database and have been involved in preparing the website for the winter season products. Julia and I have added product descriptions, done research on possible product imaging, and have dove into the backend of the website. In addition, we have been granted access to the Famous Sports Google Analytics account in order to understand the present marketing initiatives and customer interaction. Furthermore, Julia and I have been progressively creating mock logos for the 5-year anniversary of the Famous Sports e-Shop. We are incredibly excited for what the continuation of the internship has in store.
Below is a picture of our office building. We work above one of the many stores Famous Sports has around Cyprus.
Carolina Lemmen Meyer '19, International Business and a Political Science Minor, provides some information on her and Caroline Murray's internship at Socialway eServices.
It has been a week since Caroline and I started to intern for Socialway eServices, a full service Digital Marketing Agency based in Cyprus capital Nicosia. The team has been very nice and welcoming, making it easy for us to ask questions and get more involved. We spend the first day arranging immigration permits, the company had write a letter stating that they were employing unpaid interns from abroad. Luckily, our visit to the immigration office went smoothly. Back in the office, our boss introduced us to Facebook Marketing and taught us the basics of creating advertising campaigns for Facebook and Instagram. We made it our goal for the first two weeks to learn how to use Facebook advertising tools. Thus, we spent most of the week taking online courses on Facebook for Business. The team wants us to learn from practice, so whenever they created new Facebook campaigns they showed us their work and guided us through the process. We performed small tasks such as running errands, planning Instagram posts for the launch of a client´s Instagram business account and writing Facebook posts promoting the latest web developments by Socialway eServices. On Friday, one of the client´s was shooting a testimonial video to advertise their beauty products, we were invited to assist and observe the making of the video. It has been a great first week, and after work we like to walk around the city looking for new places to visit and explore.
Caroline Murray '21, International Business and Spanish Minor, speaks about this past weekend exploring Limossol, another city in Cyprus.
Over the past weekend we were able to travel a bit around Cyprus and so we decided to go to Limassol. Limassol is a beach town located in the southern part of the country and is known for its beauty. We began our journey by taking the hour and a half bus ride from Nicosia to Limassol, which allowed us to take in the Cyprus countryside. When we arrived at Limassol we headed to straight to the beach and were greeted with crystal clear waters and black sand. During a Cyprus summer, temperatures usually hover around 90° F and so we made sure to put on quite a bit of sunscreen. The beaches were filled with local families and everyone made sure to take advantage of the summer day. The beach was lined with small restaurants that served refreshing juices and various Cypriot cuisines, so we made sure to try a bit of everything. Later on, throughout the weekend, we visited the famous Limassol Marina and ate an amazing, authentic Greek meal while overlooking the ships come in. Likewise, we visited the Limassol castle and saw the amazing ruins that highlighted the traditional architecture that Cyprus is known for. The ancient walls were surrounded by colorful streets and we passed by many locals making their way through the narrow alleyways on their mopeds. Overall, we had a nice and relaxing weekend down in the south and can't wait to keep on exploring!
Below are some pictures from Limossol.